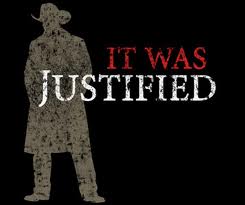 Air Dates
Edit
№
#
Title
Directed by
Written by
U.S. viewers

(million)

Original air date
14
1
"The Moonshine War"
Adam Arkin
Story by:

Graham Yost & Elmore LeonardTeleplay by: Graham Yost

3.47
February 9, 2011 (2011-02-09)
While hunting for a loose sex offender, Raylan comes up against a ruthless Harlan County crime family.
15
2
"The Life Inside"
John Avnet
Benjamin Cavell
2.41
February 16, 2011 (2011-02-16)
Raylan and Tim go to transfer a pregnant fugitive, but end up in the middle of a small-time human trafficking project. Boyd tries to adjust to civilian life with a familiar profession, and the Bennetts get a new edition to their clan.
16
3
"The I of the Storm"
Peter Werner
Dave Andron
2.59
February 23, 2011 (2011-02-23)
Dewey Crowe returns to Harlan to take advantage of a big score, but a more dangerous element has their eyes on that same prize. After the dust settles, both Raylan and Boyd try to help Dewey in their own way.
17
4
"Blood or Money"
John Dahl
Wendy Calhoun
2.64
March 2, 2011 (2011-03-02)
Rachel's recently paroled brother-in-law is on the run, and Raylan has to make sure Rachel's emotional involvement doesn't affect the case. Meanwhile, Boyd is approached with a nefarious opportunity, and the Bennett family begin to grow paranoid of Raylan's detective work.
18
5
"Cottonmouth"
Michael Watkins
Taylor Elmore
2.71
March 9, 2011 (2011-03-09)
Raylan gets a tip from Dewey that the Bennetts are into something big, and further agitates the clan by looking into fraudulent check cashing. Boyd manages to turn the tables on his treacherous accomplices, and asks Ava for further help.
19
6
"Blaze of Glory"
John Avnet
Benjamin Cavell
2.37

March 16, 2011 (2011-03-16)

A bank robbery further complicates the relationship between Winona and Raylan, as well as placing her in potential legal trouble. Art has the chance to track down a fugitive from his early career.
20
7
"Save My Love"
John Avnet
Graham Yost
2.22
March 23, 2011 (2011-03-23)
Winona's involvement with the money in the evidence locker goes deeper than assumed, putting Raylan in a tense race through the courthouse to replace it. Boyd is hired by coal executive Carol Johnson (Rebecca Creskoff ) to assist in a wrongful death suit against the company, as well as a growing conflict with the Bennett clan.
External References
Edit