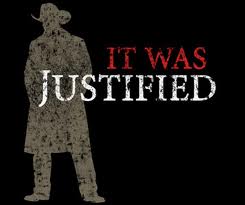 Air Date Listings
Edit
№
#
Title
Directed by
Written by
U.S. viewers

(million)

Original air date
1
1
Fire in the Hole
Michael Dinner
Graham Yost
4.16
March 16, 2010 (2010-03-16)
After some bad publicity involving a shooting, Deputy U.S. Marshal Raylan Givens is transferred to Lexington, Kentucky and under Chief Deputy Art Mullen, an old friend from the academy, he takes on the case of the murder of a young white supremacist who is linked to a church bombing. The chief suspect is Boyd Crowder, a childhood friend of Raylan's. In order to catch him, Raylan returns to his hometown of Harlan, a veritable 21st century Wild West. Boyd gives Raylan an ultimatum: leave Harlan within twenty-four hours or be killed. After a tense confrontation at an old acquaintance's house, Raylan gets the drop on Boyd and shoots him in the chest, though he survives and is hospitalized.
2
2
Riverbrook
Michael Dinner
Graham Yost
3.57
March 23, 2010 (2010-03-23)
Raylan visits Boyd in the prison hospital to check on him, and transport Crowe to prison. Meanwhile, during a 'prison band' performance, convict Douglas Cooper and a fellow inmate escape. After Art Mullen asks Raylan to return to investigate, Raylan makes a stop at a gas station. Unbeknownst to Raylan, the convicts have set a trap, and Cooper makes off with Raylan's guns, car and hat. After learning that Cooper only had three months left on his sentence, Raylan and marshal Gutterson make a trip to Cooper's ex-wife, Shirley. Cooper then visits after and makes a deal with Shirley and Dupree, Shirley's 'cousin'. They are looking for money Cooper hid in the flooring of development housing during construction. After Ava makes a house call to Raylan, he discovers a hunch as to the location of the money. Cooper, however, screwed up the location. After Dupree shoots Cooper, they find the right house, whose occupants have spent it all. A hostage situation ensues after Cooper helps Raylan find the right house, and Shirley helps Raylan by allowing Gutterson to snipe Dupree, citing that it 'wasn't right' to shoot Cooper. The episode ends with a nice conversation between Cooper and Raylan as they once again leave the prison.
3
3
Fixer
Fred Keller
Benjamin Cavell
2.31
March 30, 2010 (2010-03-30)
In tracking a vanished confidential informant, Raylan goes against a pair of violent ex-cons who are just dying for a showdown with the "Kentucky Cowboy".
4
4
Long in the Tooth
Adam Arkin
Chris Provenzano
2.10
April 6, 2010 (2010-04-06)
Raylan and the mob compete to capture a fugitive, 'Roland Pike,' racing to the Mexican border.
5
5
The Lord of War and Thunder
Jon Avnet
Gary Lennon
2.41
April 13, 2010 (2010-04-13)
Raylan is forced to take sides when his estranged father Arlo Givens goes to war with a local drug runner.
6
6
The Collection
Rod Holcomb
Graham Yost
2.06
April 20, 2010 (2010-04-20)
A wealthy man seemingly commits suicide on a luxurious Kentucky horse ranch, and Raylan must hunt for his missing art collection while resisting the advances of his attractive widow.
7
7
Blind Spot
Michael Watkins
Wendy Calhoun
2.26
April 27, 2010 (2010-04-27)
After disrupting an apparent assassination attempt on Ava, Raylan is hellbent on tracking down the responsible parties. However, he soon discovers that Ava may not have been the real target.
8
8
Blowback
Jon Avnet
Benjamin Cavell
2.46
May 4, 2010 (2010-05-04)
Raylan is turned hostage negotiator when a dangerous inmate holds a group of people hostage.
9
9
Hatless
Peter Werner
Dave Andron
2.09
May 11, 2010 (2010-05-11)
Having been suspended from the Marshal's service, Raylan decides to use his free time to go head-to-head with the gangsters who are bothering Winona's new husband.
10
10
The Hammer
John Dahl
Fred Golan & Chris Provenzano
2.08
May 18, 2010 (2010-05-18)
Raylan is tasked with guarding an eccentric old judge, but Raylan takes time off from the assignment to track down an old lead connected with the Crowders.
11
11
Veterans
Tony Goldwyn
Benjamin Daniel Lobato
1.80
May 25, 2010 (2010-05-25)
It's up to Raylan to keep Harlan safe when Boyd Crowder and his cadre of "followers" turn vigilantes.
12
12
Fathers and Sons
Michael Katleman
Dave Andron
2.13
June 1, 2010 (2010-06-01)
Boyd Crowder's increasing influence has gotten out of control and Raylan is ordered to bring in his estranged father, Arlo, to help defuse the situation. Raylan has an intimate encounter with his ex-wife Winona that is witnessed by Ava. Ava finds some unfriendly visitors in her house and decides to pay a visit to Bo Crowder to prove her resolve. Boyd decides to up the ante against Bo's business by targeting his supply truck.
13
13
Bulletville
Adam Arkin
Fred Golan
2.03
June 8, 2010 (2010-06-08)
In the first season finale, Harlan is turned into a battlefield when the tense situation between Raylan, Boyd and Bo Crowder finally comes to a head.
References
Edit