Damon Herriman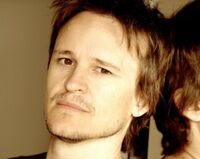 Birthplace
Adelaide, South Australia, Australia
Damon Herriman - born on March 31, 1970 (1970-03-31) (age 51) in Adelaide, South Australia, Australia - is an actor. He has a recurring role as Dewey Crowe in the FX series Justified.
Biography
[
]
Damon Herriman was born in Adelaide, South Australia, and is the son of Noel Herriman, who is also an actor. He began acting in local television commercials at the age of eight, but it was not until he was cast as Frank Errol in The Sullivans two years later that his career began to take off. He continued to work solidly as a child actor, with a return to The Sullivans a year later, as well as the Australian series The Patchwork Hero, Sara Dane, For the Term of His Natural Life and Taurus Rising. He received three Logie Award nominations for his performance in The Sullivans.


Other than his role as Dewey Crowe in Justified, Herriman is also known for his roles as the Roadkill Driver in House of Wax, Roger Moylan in Candy, Mark Jorgensen in The Big Steal, Eddie in The Square, as well as Bruno Hauptmann, the kidnapper of the Lindbergh baby in the Clint Eastwood film J. Edgar.