Eddie Jemison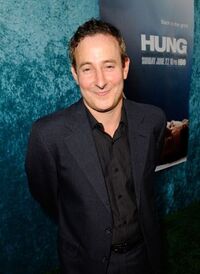 Birthplace
New Orleans, Louisiana
Birthdate
25 November, 1963 (age 54)
Edward "Eddie" F. Jemison - born 25 November. 1963 - is an American film and television actor who had a guest role as Stan Perkins in the FX series Justified.
Biography
[
]
Jemison was born in New Orleans, Louisiana, the son of Rosalie (née Centanni) and Edward F. Jemison. He was raised in Metairie, Louisiana and attended Archbishop Rummel High School, subsequently graduating from Louisiana State University where he was a member of The Delta Chi Fraternity.
Jemison has a daughter.
Career

[

]
Jemison moved to Chicago in the early-1990s and began acting on stage. His credits include "The Wizards of Quiz" at the Nation Jewish Theatre, a theatrical telling of the late-1950s quiz show scandal involving irksome genius Herbert Stempel and rich kid Charles Van Doren, as depicted on film in "Quiz Show" (1994). Jemison also appeared in "Only Kidding" at the Wisdom Bridge Theatre, "A Christmas Carol" at the famed Goodman Theatre, and "T Bone N Weasel" at Victory Gardens. The Chicago theater scene took special notice of Jemison with his slapstick performance as Launce in "The Two Gentleman of Verona" at the Chicago Shakespeare Theatre. But by then, Jemison was a stage veteran ready to take the next step in his career: film.
Jemison paid his dues by appearing in several low-budget features that remained unknown to the general public. One exception was "Schizopolis" (1996), directed by Steven Soderbergh. In this absurdist workplace satire, Jemison played Nameless Numberheadman, an office worker who babbles his paranoid delusions to Fletcher Munson (Soderbergh). In another nameless role, he played a Museum Worker in the horror thriller "The Relic" (1997), a poor man's "Alien" set in a Chicago museum—a flop by any standard. Meanwhile, Jemison was finding regular work on the small screen, appearing in episodes of "Judging Amy" (CBS, 1999- ), "CSI" (CBS, 2000- ), "Strong Medicine" (Lifetime, 2000- ), and "Six Feet Under" (HBO, 2000- ).
In 1996, Jemison—a singer, songwriter, and guitarist—formed the power pop band, Love Kit, with second guitarist Rich Sparks, a former band mate of Jemison's in the group Silver Drag. Both lively and melodic, Love Kit made three albums—10 Milligram Day, Who's Afraid of the Radio Tower?, and The September Heads—before bassist Ellen Phillips and drummer Tim Ford left to pursue other interests. Before the break up, Love Kit performed with Susanna Hoffs and Corey Glover, and had a successful tour in the U.K. Jemison continued acting while playing music, appearing as electronics expert Livingston Dell in the remake of the Rat Pack casino caper, "Ocean's 11" (2001). He reprised the role in the sequel, "Ocean's 12" (2004), though like most of the supporting cast he was underutilized in the film.