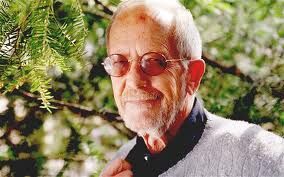 Elmore Leonard (October 11, 1925 - August 20, 2013) wrote the novella Fire in the Hole which is the source material for FX's Justified.
Biography
Elmore John Leonard Jr. (born October 11, 1925), better known as Elmore Leonard, is an American novelist and screenwriter. His earliest published novels in the 1950s were westerns, but Leonard went on to specialize in crime fiction and suspense thrillers, many of which have been adapted into motion pictures.
Among his best-known works are Get Shorty, Out of Sight, Hombre, Mr. Majestyk and Rum Punch, which was filmed as Jackie Brown. Leonard's short stories include ones that became the films 3:10 to Yuma and The Tall T.
He created the character of Raylan Givens for his novel Pronto (1993). The novel focuses on Harry Arno, an elusive Miami bookmaker who Raylan is charged with keeping in custody so that he can testify against his former boss. Pronto also featured the character Tommy Bucks who appeared in the Justified pilot. Pronto also features Earl Crowe, a lowlife hitman from a large criminal family - the Crowe family eventually appeared in the fifth season of Justified.
Leonard featured Raylan and Arno again in the sequel Riding the Rap (1995). He delved into the character's backstory with the 2001 novella Fire in the Hole. Fire in the Hole introduced the characters Boyd Crowder and Ava Crowder.
Leonard also co-wrote the Justified second season episodes, "The Moonshine War" and "The Spoil", the third season episode, "Thick as Mud", and the fourth season episode, "Money Trap", with Graham Yost, Dave Andron, Jon Worley and Chris Provenzano respectively.
Leonard returned to the character again following the success of Justified. He featured him in the novel Raylan (2012).
On August 20, 2013, Leonard died from complications following a stroke. The fifth season premiere episode, "A Murder of Crowes" began with a 90-second tribute to Leonard. 
Stories
Screenplays
External links