Erin Cardillo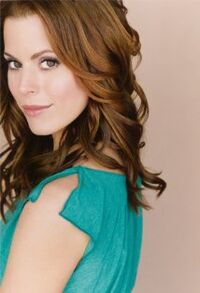 Birthplace
White Plains, New York, USA
Birthdate
February 17, 1977
Erin Cardillo - February 17, 1977 (1977-02-17) (age 44) - is an American actress who guest stars as Samantha in the FX series Justified first season episode "Fixer". She is best known for her role as Emma Tutweiller on The Suite Life on Deck and for her role as Esme Vanderheusen in Passions.
Biography
[
]
Early life
[
]
Cardillo attended Northwestern University and has a Bachelor of Science degree in Performance Studies. It was there that she began to explore writing and adaptation, as well as acting. She graduated Magna Cum Laude in 1999. She spent her junior year abroad in London, through Marymount College, where she cultivated her great love of Shakespeare.
Career
[
]
In 2000 she appeared in the Madigan Men episode "Three Guys, a Girl, and a Conversation Nook" as Nicole. In 2001 she guest starred in an episode of Law & Order. In 2002 she appeared in That '70s Show as Lisa. In 2003 she appeared in Coupling and Strong Medicine.
In 2004 she appeared in the short films The Murder of Donovan Slain (which she co-produced and wrote) and The Greatest Short Film Ever!!!.
In 2005 she began a recurring role in Passions as Esme Vanderheusen. The role continued until 2007. She also appeared in Without a Trace, Crossing Jordan and In the Mix. In 2006 she had roles in the short film Even Money and the series Freddie. In 2007 she had roles in the series How I Met Your Mother and Las Vegas and the films The Box and Sunday Morning.
In 2008 she had roles in the film The Hottie and the Nottie (as a Yoga Teacher), short film Superglue (as Lauren and was also a Producer) and the fifth season episode of CSI: NY "The Box" as Elizabeth Barker.
In 2010 she guest starred as conniving waitress Samantha in the FX series Justified first season episode "Fixer". She also appeared as a recurring guest star in the new Disney Channel spin-off The Suite Life on Deck as Emma Tutweiller. She has also appeared in an Arby's commercial with co star from The Suite Life on Deck Windell D. Middlebrooks. She also had roles in the films Sex Tax and The Truth.
In 2011 she appeared in the ninth season CSI: Miami episode "Caged" as Brooke Shepherd. She also appeared in the film Son of Morning as Jennifer.