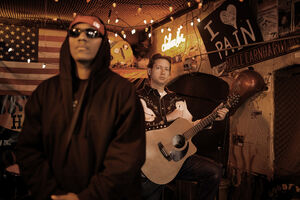 Gangstagrass is a group of musicians in New York City, founded and led by Brooklyn producer "Rench," that combine authentic bluegrass and rap into a new genre.
Gangstagrass' music started reaching a wide audience when their song "Long Hard Times to Come" was selected to be the opening theme song of the acclaimed television show, Justified, on the FX channel in early 2010. On July 8, 2010, Gangstagrass Producer Rench and Rapper T.O.N.E.Z were nominated for an Emmy in the category of Outstanding Original Main Title Theme Music for "Long Hard Times to Come."
The Gangstagrass single "Give it Up" is used in the Season Two trailer.
The Justified series is based on the work of fiction-writer Elmore Leonard, and the author is a fan of Gangstagrass' music:
"Rench and his friends have done nothing short of creating a new form of music. Gangstagrass takes two types of music that are opposites and mixes them together brilliantly in a way that is natural and enjoyable." - Elmore Leonard
Lightning on the Strings, Thunder on the Mic (May 2010)
Band Members
Edit
Rench (vocals, beats, guitar, producer),
T.O.N.E-z (vocals),
Matt Check (vocals, banjo),
Todd Livingston (vocals, resonator guitar),
Jason Cade (vocals, fiddle),
Roy Shimmyo (bass),
PREPMODE (turntables),
Jen Larson (guest vocals),
Tomasia (guest vocals)
External Links
Edit
[[1][Gangstagrass Official Website]]