Garret Dillahunt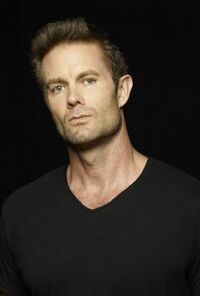 Birthplace
Castro Valley, California
Birthdate
November 24, 1964
Garret Dillahunt - born Garret L. Dillahunt on November 23, 1964 (1964-11-23) (age 53) in Castro Valley, California, USA - is an actor. He has a recurring role as Ty Walker in the sixth season of Justified.
Biography
Edit
Early Life
Edit
Dillahunt was born in Castro Valley, California, and grew up in Selah, Washington. One of three siblings, he has a brother, Brett; his other brother, Eric, died in 1981 in Yakima, Washington, as the result of a drunk driving accident. Garret graduated from the University of Washington with a B.A. in journalism and received his M.F.A. in acting from New York University's Graduate Acting Program at the Tisch School of the Arts
Personal Life
Edit
Dillahunt is married to actress Michelle Hurd.
After spending years on and off Broadway, Dillahunt began pursuing television and film roles. He appeared as a regular in several short lived series on ABC and Showtime, and landed guest spots on TV shows such as The X Files and NYPD Blue among others, before playing two distinctly different characters on the HBO series Deadwood: Jack McCall in 2004 and Francis Wolcott in 2005. He later had a recurring role on USA Network's The 4400. Dillahunt portrayed Steve Curtis for three seasons on ER (2005–06). Later roles included Dr. Michael Smith on HBO's John From Cincinnati; Cromartie and John Henry on FOX's Terminator: The Sarah Connor Chronicles; Roman Nevikov, a Russian gangster, on NBC's Life; and Mason Turner, a paralyzed serial killer on Criminal Minds. He played Simon Escher in the Burn Notice third season finale airing March 4, 2010 on USA, later reprising the role in the show's fourth and seventh seasons.
Dillahunt appeared in such films as The Assassination of Jesse James by the Coward Robert Ford, No Country For Old Men, The Road, Winter's Bone, The Last House On The Left and the indie horror film, Burning Bright.
It was announced on August 20, 2009 that Dillahunt would square off with Rosie Perez on an episode ("Hardwired") of Law & Order: SVU later that year in 2009 about pedophilia. He played the head of a pedophilia organization. "It's called 'Hardwired'", executive producer Neal Baer said, "because they believe that pedophilia is [a genetic predisposition]". Since 2010, Dillahunt has been starring as Burt Chance on the Fox comedy Raising Hope, until its' cancellation in 2014.
Dillahunt was the subject of an article in the September 2009 issue of Esquire magazine.