Jenni Blong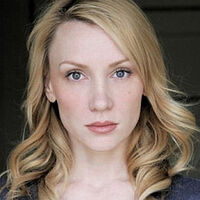 Jenni Blong is an American actress who had a guest role as Molly Tucker in the FX series Justified.
Personal Life
[
]
Blong has been married to actor and composer John Livingston since 2006. 
Blong was trained at the highly esteemed William Esper Studio in New York City.
Blong is a former ballet dancer.
Career
[
]
Blong is best known for her recurring and series regular roles as Michelle Stackhouse on HBO"s True Blood, Evie on HBO's Big Love and Doris on FX UK's The Booth at the End. Her first break in LA was being cast as Al Pacino's gal friday in the movie "Simone". She was also cast opposite Adam Beach in the Robert Redford produced "Coyote Waits".