Jordi Caballero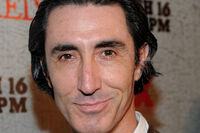 Birthplace
Barcelona, Spain
Birthdate
February 6, 1965
Jordi Caballero - born February 6, 1965 (1965-02-06) (age 56) in Barcelona, Spain - is a Spanish actor, dancer, choreographer, and producer who had a recurring role as Miami cartel ringleader Gio Reyes in the first and second seasons of the FX series Justified.
Early Career
[
]
Caballero's love for the American way led him to the U.S. to pursue a career in acting and the performing arts. He earned a BFA in acting at New York University, Tisch School of the Arts. During this period, he also cultivated his evolving interests in dance/performance art including theatrical and Latin styles. It was not long after that Caballero's multiple talents as an actor, dancer, and choreographer brought him work in television, film and stage venues.
Acting Career
[
]
One of Caballero's first major television appearances was as a love interest to the character of Carrie Bradshaw on the HBO show Sex & The City. Several roles followed on shows such as Alias, Scrubs, CSI: Miami, The Unit, Nip/Tuck, The Shield, Entourage, Brothers & Sisters, and Rules of Engagement.
The romantic comedy Snow Days starring Bernadette Peters marked the beginning of Caballero's film career. He has brought his combination of acting and movement talents to bear in such high profile films as Alex & Emma, Rent, and Pirates of the Caribbean: The Curse of the Black Pearl.
In 2007, he was an associate producer and co-star of Valentina's Tango, opposite celebrated tango master Guillermina Quiroga.