POLLS THAT ARE
---
See past Polls >
MEDIA
---
Season 6 - Teaser Promo "Hat Trick"

Season 6 - Teaser Promo "Three on a Match"

Season 6 - Teaser Promo "Pawn"
Welcome to Justified wiki a guide to the FX series Justified that anyone can edit.
Hello fellow contributors and Justified fanatics. Justified has come to an end, but there is still a lot of work to be done around the Wikia.
If you'd like to help check out Season 1, Season 2, Season 3, Season 4, Season 5 and Season 6 and follow the red links to make new articles for the cast and characters. HorrorFan01 is leading the charge in this regard so a big thank you to them.
Have a look at our Help Desk forum if you have any suggestions or questions.
A
ARTICLE
---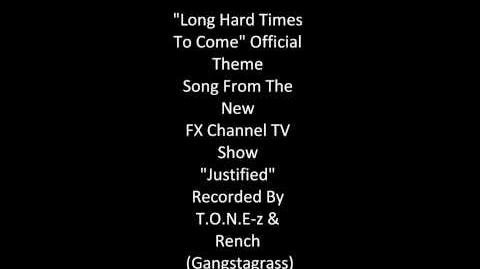 The hit theme song for the show
Justified,
entitled
Long Hard Time to Come
, is by a once relatively obscure band named
Gangstagrass.
The band was founded and is led by Brooklyn producer "Rench." Their sound combines authentic bluegrass and rap into a new genre.
Read more >
NEWS THAT IS
---
BLOGS THAT ARE
---
I have posted an adoption request here with my intentions to adopt the Justified wikia since the Wikia owner and no admins have been active lately. 
See more >
HELP US GET
---
We are currently housing 1,006 articles, and 1,150 files. We need YOUR help expanding and adding articles to the wiki!
---
---
If you're new to wikia, please use the above links to get started.
If you already have editing experience, and you have an article relating to
to contribute, use the box below to create it:
<createbox>width=30</createbox>