Kevin Rankin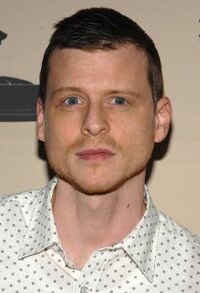 Birthplace
April 18, 1976
Birthdate
Baton Rouge, Lousiana
Kevin Rankin - born April 18, 1976 (1976-04-18) (age 45) - is an American actor who had a recurring role as Devil in the first, second and third seasons of the FX series Justified.
Career
[
]
Prior to appearing in Justified Rankin had worked extensively in television and film. He had a recurring role as Herc, a wheelchair using sportsman, in highschool football drama Friday Night Lights on NBC. Rankin had a starring role as Tyler Briggs on the short-lived NBC medical drama Trauma in 2010 which prevented him from appearing in the first season of Justified following his appearance in the pilot due to scheduling conflicts.
Rankin also had a recurring role in the final season of the AMC series Breaking Bad as Kenny.