Malik Yoba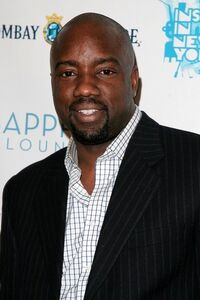 Name
Abdul-Malik Kashie Yoba
Birthplace
The Bronx, New York
Birthdate
September 17, 1967
Abdul-Malik Kashie Yoba - born September 17, 1967 (1967-09-17) (age 54) - is an American actor and occasional singer who had a guest role as Toby Griffin in the FX TV series Justified.
Biography
[
]
The fourth of six children,Yoba was born September 17, 1967 in Bronx, New York, the son of Mahmoudah Young (née Lanier) and Abdullah Yoba. Yoba, who is African American, was raised as a Muslim.
He has been married to Cat Wilson, a model and actress since December 21, 2003, and he has three children from previous relationships.
Career
[
]
In 1994, Yoba began his role as NYPD Detective J.C. Williams on the popular FOX police drama series New York Undercover, opposite fellow actor Michael DeLorenzo. Yoba and DeLorenzo (who is of Puerto Rican descent) made television history, as the series was the first police drama on American television to feature two people of color in the starring roles. Yoba's work on New York Undercover earned him three consecutive NAACP Image Awards for Outstanding Actor in a Drama Series (in 1996, 1997, and 1998). The series was cancelled in 1998, with Yoba as the only actor to appear in all 89 episodes.
An accomplished singer and stage actor, Yoba's singing and stage work was showcased in "His Woman His wife," of which he had the lead role.
Yoba has also appeared in films such as Cool Runnings and Criminal. He has made appearances on the FOX television series Arrested Development as Ice, a bounty hunter whose real love is party planning. He has also been a recurring character, Brock Harris, on the UPN sitcom Girlfriends. Yoba also appeared in the FX Networks crime drama Thief and the NBC crime drama Raines. He appeared as Gavin in the 2007 Tyler Perry film Why Did I Get Married? and its 2010 sequel Why Did I Get Married Too? In 2009, he co-starred as astronaut Ted Shaw on the futuristic ABC drama Defying Gravity. Recently, he announced his plans on bringing back New York Undercover to the small screen in a modern TV series adaptation of the original series. Law & Order writer Courtney Parker penned a spec script for networks to bid on.
In 2011, Yoba began appearing as former FBI Special Agent Bill Harken on Alphas, a science fiction drama series about a team of people with special abilities who belong to a secret department attached to the DOD.