Matt Craven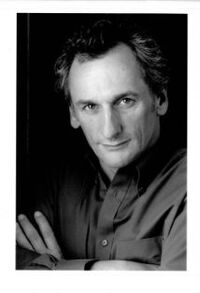 Name
Matthew John Crnkovich
Birthplace
Port Colborne, Ontario, Canada
Birthdate
November 10, 1956
Matt Craven - born November 10, 1956 (1956-11-10) (age 65) in Port Colbrone, Ontario, Canada - is an actor. He has a recurring role as Chief Deputy US Marshall Dan Grant in Justified.
Biography
[
]
Craven was born Matthew John Crnkovich in Port Colborne, Ontario, the son of Joanne Leslie, a hairdresser, and Nick Crnkovich. He has an older sister, Deborah. Craven is married to Sally Craven née Sutton and has two children, Nicholas and Josephine.
Career
[
]
Craven has worked with Justified show runner Graham Yost on the series The Pacific, Raines and Boomtown. In The Pacific he guest starred as psychiatrist Dr. Grant. He starred in Raines as Captain Dan Lewis. He guest starred in Boomtown as Dr. Michael Hirsch.
Craven's film credits include Meatballs, Happy Birthday to Me, Tin Men, Blue Steel, Jacob's Ladder, K2, A Few Good Men, Indian Summer, Crimson Tide, The Juror, Paulie, Dragonfly, The Life of David Gale, Timeline, The Clearing, Assault on Precinct 13, Déjà Vu and Disturbia. His television credits include American Gothic, L.A. Doctors, ER, The Lyon's Den and Without a Trace.
He also appeared in NCIS as the new Secretary of the Navy, Clayton Jarvis and will reappear in Season 9, teaming with Crimson Tide co-actor Rocky Carroll.
He is currently a main cast member in the ABC drama series Resurrection, which premiered on March 9, 2014.