Pat Skipper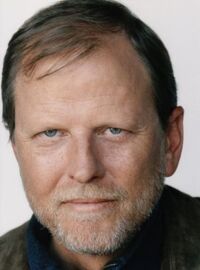 Name
William Patterson Skipper
Birthplace
Lakeland, Florida
Pat Skipper - born William Patterson Skipper on 1958 in Lakeland, Florida - is an American actor who had a guest role as The Reverend in the FX series Justified first season episode, "Fathers and Sons".
Biography
[
]
Personal life
[
]
Skipper was born on 1958 in Lakeland, Florida. He was educated at Florida State University and Yale University. Skipper is married to composer/arranger Jennifer Hammond. Their twins, Jack and Amelia, were born in 2002.
Career
[
]
Pat is probably best known for his television work including parts in The X-Files and Boston Legal. In film, he played Carducci in the (1996) action/horror film Hellraiser IV: Bloodline, Mason Strode from Halloween, Seabiscuit's Vet from Seabiscuit (2003), Bob from Fits and Starts, and Agent Ellroy from Chain of Command.