Ray Porter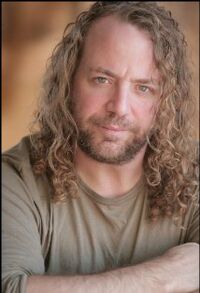 Ray Porter is an American actor who guest stars as Hestler Jones in the first season of the FX series Justified.
Biography
[
]
Career
[
]
From 1990 to 1996 Porter acted in a series of educational short films based on American history and the bible. He starred in the independent film Follow the Bitch in 1996. In 1998 he co-starred in the series Murphy Brown. In 1999 he began a recurring role in the medical drama ER as Sam Broder, appearing in two episodes. In 2000 he had a supporting role in the successful Cameron Crowe film Almost Famous as Mick, a roadie. In 2001 he reprised the role of Sam Broder in ER and appeared in Frasier. In 2002 he appeared in the short film Hot Rush and the series Will & Grace. In 2003 he appeared in the series Dragnet and In-Laws and the film Sin. In 2005 he had a role in The Suite Life of Zack and Cody and played Abraham in the TV special Bible Battles. In 2006 he co-starred in Medium. In 2007 he had roles in the short film The Trap and the documentary Last Stand of the 300. In 2008 he guest starred in Monk. 2009 saw guest starring roles in the series Southland, The Closer, CSI and It's Always Sunny in Philadelphia.
He had a recurring guest starring role in the first season of Justified as Harlan County drug distributor Hestler Jones. He appeared in the episodes "Veterans", "Fathers and Sons" and "Bulletville". In 2010 he appeared in the video games Bioshock 2 and Medal of Honor. He appeared in the Lost special "Epilogue: The New Man in Charge" as Glenn. He also guest starred in the FX series Sons of Anarchy second season episode "Home" as Head Read. He also had a role in the film The Runaways. In 2011 he provided a voice performance for the animated film The Little Engine That Could. In 2012 he appeared in the film Argo.
External links
[
]