Ron Eldard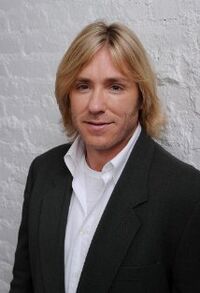 Birthplace
Long Island, New York
Birthdate
February 20, 1965
Ron Eldard - born Ronald Jason Eldard on February 20, 1965 (1965-02-20) (age 54) in Long Island, New York, USA - is an actor. He had a recurring role as Colton Rhodes in the fourth season.
Biography
Edit
Early life
Edit
Eldard, the second youngest of seven children (4 sisters and 2 brothers), was born on Long Island, New York. Eldard's mother died in a car accident when he was a child, and Eldard and his siblings were sent to live with various family members. He attended grade school in Utah while living with his aunt and uncle. At age 13, Ron moved to Ridgewood, Queens to live with his sister Lana and her husband.
Eldard attended JHS 93 annex in the 7th grade and then JHS 93 in the 8th and 9th grades. He worked at a local fast food restaurant called Chicken Galore where he often wore the "Chicken Suit" mascot costume. He was locally known, by friends & co-workers, for copying the performances of Steve Martin and Robin Williams, and would perform various skits when given the opportunity.
Eldard graduated from the New York High School for the Performing Arts' Drama Department.
He also performed street magic in Manhattan.
Eldard made his film debut in the 1989 comedy True Love, written and directed by Nancy Savoca, and co-starring Annabella Sciorra. This film won the Grandy Jury Prize at the Sundance Film Festival. Eldard has performed on Broadway in critically acclaimed productions of On the Waterfront, Biloxi Blues, Bash: Latterday Plays, and Death of a Salesman. The latter two were filmed for Showtime productions.
Eldard played Mickey Bunce in the cult film Drop Dead Fred (1991). He had a recurring role in the medical drama ER as Shep, a paramedic.
Eldard played sympathetic street thug John Reilly in the 1996 film Sleepers which co-starred Brad Pitt, Billy Crudup, Jason Patric, Kevin Bacon, Dustin Hoffman, Robert De Niro, and Minnie Driver.
Eldard played astronaut Oren Monash in the 1998 blockbuster Deep Impact. During the mission to save the planet, Oren was blinded by the sun and played in a scene opposite Robert Duvall on the return journey.
Eldard played private David Manning in 1988 HBO war film 'When Trumpet fades' -during the World War II Battle of Hürtgen Forest, a battle between the United States Army and German Wehrmacht which took place from September 14, 1944 to February 10, 1945 on the Western Front.
In 2002 he played Boat Salvage crew member Dodge in Ghost Ship with Desmond Harrington, like in the movie, he was Juliana Marguiles's Boyfriend in that time.
He was nominated for best actor in Seattle International Film Festival.
On January 9, 2006 he debuted in the role of Father Flynn in the Tony Award and Pulitzer Prize winning Broadway production of Doubt opposite the British actress Dame Eileen Atkins.