Tony Hale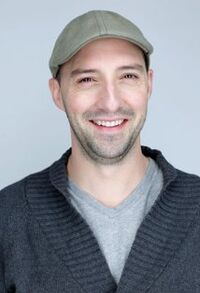 Birthplace
West Point, New York, USA
Birthdate
September 30, 1970
Tony Hale - born Anthony R. Hale on September 30, 1970 (1970-09-30) (age 51) in West Point, New York, USA - is an American actor who guest stars as David Mortimer in the FX series Justified first season episode "The Collection".
Biography
[
]
Early life
[
]
Born in West Point, New York, Hale grew up in Tallahassee, Florida, where he attended the Young Actors Theatre and participated in numerous theatrical and musical productions.
Hale graduated from Samford University in Birmingham, Alabama in 1992 with a journalism degree, where he became a member of Sigma Chi Fraternity. He is a 1994 graduate of the School of Communication & the Arts of Regent University in Virginia. After graduating, he set up residence in New York City and lived there for nearly ten years. While in New York, Hale helped found The Haven, an artistically minded community of Christians that meets weekly. He also studied acting at The Barrow Group, a prestigious New York City theatre company
Career
[
]
Hale made minor guest appearances in TV shows such as Dawson's Creek, The Sopranos, and Sex and the City. He is often recognized for his role in the famous VW television commercial aired in 1999, in which he danced to the song, "Mr. Roboto" (which was spoofed on the Arrested Development episode "The Ocean Walker").
From 2003 to 2006, Hale found success in television when he was cast as Byron "Buster" Bluth, the hapless, neurotic youngest son with "mother issues" on the Fox sitcom Arrested Development.
Hale also appeared in a season ten episode of MADtv, with Arrested Development co-star, Michael Cera, in a parody of COPS where two British rozzers (played by Hale and Cera) try to stop a domestic dispute among the Royal Family (played by Stephnie Weir, Michael McDonald, Paul Vogt, and Ron Pederson).
In March 2006, Hale was cast in the NBC sitcom Andy Barker P.I. in a co-starring role of the video store owner, Simon. The series starred Andy Richter and was co-created by Conan O'Brien. He also appeared in minor roles in Stranger Than Fiction and Because I Said So. He was the voice of Furlough in The Tale of Despereaux, an animated children's film released in 2008.
He had a recurring role as Buy More manager Emmett Milbarge on Chuck, beginning in October 2008 and ending in January 2010. He had a starring role on the NBC web series Ctrl, which premiered July 13, 2009. He also appeared in the Showtime dramedy United States of Tara in the second episode of the first season as English teacher Oral Gershenoff. He joined the cast of Numb3rs in 2009, in the recurring role of Professor Russell Lazlo.