Walton Goggins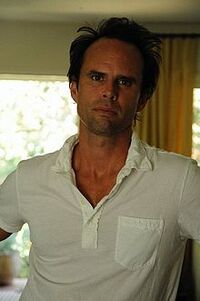 Name
Walton Sanders Goggins, Jr.
Birthplace
Birmingham, Alabama
Birthdate
November 10, 1971
Walton Goggins - born Walton Sanders Goggins, Jr. on November 10, 1971 (1971-11-10) (age 48) in Birmingham, Alabama, USA - is an actor. He stars as Boyd Crowder in Justified. He was a member of the recurring cast during Season 1. He has been a member of the starring cast since the Season 2 premiere "The Moonshine War".
Biography
Edit
Walton Goggins is an American actor best known for his roles on the FX Networks series The Shield and Justified, portraying Detective Shane Vendrell and Boyd Crowder, respectively. He is also known for his character roles in the films Miracle at St. Anna and Predators. Goggins co-produced and starred in the 2001 short film The Accountant, which won an Academy Award for Best Live Action Short Film. Goggins accepted the award alongside Ray McKinnon and Lisa Blount.
Goggins is best known for his portrayal of Detective Shane Vendrell in the FX series The Shield, a role he played from 2002 to the series' conclusion in 2008.
In addition to his acting work, Goggins is also an award winning filmmaker. He has a production company – Ginny Mule Pictures – with his partner Ray McKinnon. Together they have made four films: a short, The Accountant (won the Academy Award in 2001), Chrystal (Sundance Dramatic Competition), Randy and the Mob and That Evening Sun (South By Southwest Special Jury Prize 2009). He worked with McKinnon on a new television show, Rectify. Goggins was set to play the lead and AMC Television had bought the pilot script, written by McKinnon.
In May 2010, Goggins was promoted to series regular for Season 2 of Justified on FX. In July, he had a major supporting role as a deadly death row inmate being hunted by the titular antagonists in the film Predators.
Goggins had a recurring role in the fifth and sixth seasons in the FX series Sons of Anarchy, portraying transgender Diosa escort, Venus Van Dam.
Goggins has recently starred as Billy Crash in the Quentin Tarantino directed Western film, Djanjo Unchained, which  was released December 25, 2012. The film also starred former Justified cast member M.C. Gainey.
Goggins was also nominated for Outstanding Supporting Actor in a Drama Series at the 63rd Primetime Emmy Awards, but lost to Peter Dinklage, who stars as Tyrion Lannister in the HBO series Game of Thrones. 
Community content is available under
CC-BY-SA
unless otherwise noted.